BIOGRAPHY
Born:
1968 California
Education:
2003 - AA Santa Barbara City College—Phi Theta Kappa-AA 2003.
2005 - BFA The School of the Art Institute of Chicago- BFA 2005
Awards:
2002 - Santa Barbara City college: Purchase award- Painting
2003 - Honorable Mention-Painting
2003 - Student of the Year-Studio Art
2004 -The School of the Art Institute of Chicago: Scholarship Award
2010 - Obispo Beautiful Association ( Public Art )
Exhibitions
2001 - Atkinson Gallery
2002 - Atkinson Gallery
2004 - Magnificent Mile Exhibition-Chicago "Lovers"
2004 - Remet Corporation "Shaping the Future"- Honorable Mention "Limbo"
2005 - Cialis Western Open
2005 - BFA Exhibition Chicago
2009 - Bella Arte at Four Seasons Resort The Biltmore Santa Barbara
Competitions:
2008 – San Luis Obispo, Buena Vista Ave. and Garfield St. at Monterey St.
Publications:
2007 – Dinning and Destinations 
2008 – The Guild Sourcebook # 23
2009 – The Guild Sourcebook # 24
2009 - The Tribune San Luis Obispo, Ca.
2010 - The Tribune San Luis Obispo, Ca.
Apprenticeship:
2001 - 2003  Aristides Demetrios
Sculpture Studio Foreman
2004 -  2010  Chessmar Sculpture Studio
2001 – 2009 Demetrios Sculpture
Commissioned Art:
2005 - Cialis western Open / Velocity Sports and Entertainment
2006 - Alliance / Sharon Lee Erwin
2007 - Yin & Yang 1 / Ken Chiate – Malibu CA.
2007 - Wu Wei Fountain / Frank and Parm Williams / Hope Ranch, CA.
2007 - Vision / Brian Gianesin
2007 – Conviction / Brian Gianesin
2008 - Dancers / Ken Chiate - Malibu CA.
2008 - Adagio / Santa Barbara Rescue mission
2009 - Bill & Lilli Tregos Montecito, CA.
2010 - Bill & Lilli Tregos Montecito, CA.

Public Art Fabrication Commissions:
2000 - Santa Barbara City College
2002 - 2003 - 2007 -2008 - Freemont Ca. Auto Mall Parkway shopping center
2003 - 2004 - 2005 - Dryer Building- Santa Barbara Ca.
2007 - ATT Building, Minneapolis Minnesota
2008 – 2009 – USC Fountain
2010 - San Luis Obispo, Buena Vista Ave, Garfield and Monterey St. Project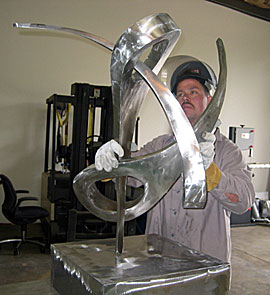 Brian Chessmar was born in the Los Angeles, but was raised in his maternal family's home of Santa Barbara. However, before returning to Santa Barbara, from age seven to nine, he spent two years in Paris, where he was exposed to the art that influenced him for the rest of his life. Every day he wandered the streets of Paris under the eves of the architectural wonders of the past. And, though he was impressed by the works of the Louvre, the Rodin museum was his favorite and influenced him in ways he could not have imagined. He returned to the United States, fluent in French and sensitive to the role of art in the world. Chessmar continued in his studies with art always in the background of his life. In 1989, upon meeting a stone sculptor, who offered to train him in the techniques of stone sculpting, he began working in stone. While perfecting his technique, he realized that he wanted to explore other mediums as well. He returned to school to explore the boundaries of each medium.
In his time at Santa Barbara City College, Chessmar received a purchase award for a drawing, an honorable mention in drawing and painting and, in 2002, was named Student of the Year in Studio Art. It was in his explorations at school that he found and embraced the techniques of the fabrication of steel and bronze sculptural forms. In the end, he realized that the sculptural form was his forte. He graduated Phi Theta Kappa with an AA from Santa Barbara City College, and continued his education at The School of the Art Institute of Chicago with a scholarship award. In Chicago, Chessmar showed his work "Lovers" in the Magnificent Mile Exhibit and received Honorable Mention in the Remit Corporation "Shaping the Future" Competition. During this period, Chessmar was discovered by Aristides Demetrios who mentored him in his newly found passion- the fabrication techniques of bronze and steel sculpture. Ironically, Aristides' father, George Demetrios, had been trained by Bourdelle, a student of Rodin. While working with Demetiros, Chessmar soon found his own direction, developed his own style and began to investigate the relationship between sculptural form and the material."
"The Artist's Work"
Chessmar chooses steel or bronze to suit the form as well as the philosophical concept he wishes to convey. He prefers steel as a medium, in some instances, because it allows him to push the physical limits of balance in his use of geometric, organic and curvilinear forms. He pays equal attention to the finish. For instance, in Chessmar's "On the Edge Triptych", he fabricates steel figures, in various poses, perched on crude I-beams. The contradiction of the crude steel I-beam and the polished steel figure, in itself, hints of man rising out of the mire of his own nature, in the constant struggle against his own nature. Each pose represents a different stage of being "On the Edge Triptych ". The surface is polished so that when the observer looks into the head of the bronze figure "Limbo", he sees a ghost like reflection as if looking at his own spirit. Thus, allowing the observer to have a personal interaction with the piece.
In other works, Chessmar deals with the balance or lack of balance between the self and its conditions. In considering this precarious balance, Chessmar's work exhibits the relationship of the body, mind and soul to the environment. It is imperative that these elements be in harmony with their surroundings in order to maintain a healthy spiritual condition.
As products of our environment, humanity, as represented by the individual in Chessmar's work, is constantly struggling spiritually in order to achieve harmony within himself and, consequently, the universe. His forms, themselves, communicate the question of man's relationship to himself, society and the universe.