Brian Chessmar recently completed a sculpture triptych for the City of San Luis Obispo titled " Bequest" The project began with the theme of  "The Gateway to San Luis Obispo" With that in mind Chessmar decided to fill the proposed site with three sculptures. In thinking about the theme of a gateway to San Luis Obispo he wanted to create forms that were inviting, as if to be offering the city as a gift, or to be passing down a legacy for generations to come.
The sculptures are dancing figures, balancing on cube like forms, with their arms invitingly extending towards various directions of the city. The three sculptures are essentially the same design, however, they vary in scale and orientation. The largest most centrally positioned sculpture has its arms extended parallel to Monterey Street pointing towards downtown. It is 15 feet tall. The two flanking sculptures are. 12 and 9 feet tall.
Conceptually, the balance between the figures and the cubes encompass the intricate balance between commerce, agriculture, education and tourism within the city as well as the county.  In addition to being representations of the arts —dance, theater, music — the different sizes of the figures represent diversity within the city.
The sculpture triptych was fabricated out of 316 L stainless steel. 316 L stainless is a high quality stainless, which is strong and suitable for several types of climate. It is able to withstand expansion and contraction due to extreme changes of temperature. It does not rust when subjected to rain or morning dew and, most importantly, minimal corrosion occurs when it is subjected to the salt air of a marine environment.
These sculptures are very low maintenance. The finish uses the inherent beauty within the stainless steel itself, which requires no wax, paint or polish. They only need to be periodically cleaned of dirt and bird droppings.  Any paint or pen marks can be cleaned with a solvent such as zylene, which is safe for the finish. Because of the durability and longevity of the proposed materials, these sculptures could potentially last hundreds of years.
When Chessmar creates his art, he keeps in mind that most of the general public has not had any formal training in the field of art. So when he designs a piece, he tries to develop a conceptual idea, using finely crafted sculptural forms, into a work of art that creates a dialogue between the work and the viewer and is visually pleasing in form and composition. Therefore, anyone can enjoy the work without thinking about its conceptual connotations.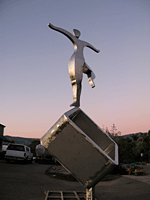 Brian Chessmar has been fabricating sculpture in bronze, steel and stainless steel for the past 14 years. He owns a 1600 sq. ft, metal fabrication studio (not including outdoor space) suitable for large-scale projects. In addition to fabricating his own designs, for the past 11 years, Chessmar has been sub-contracted by other artists to build and install public and private sculptures and fountains ranging from small indoor sculptures to large scale outdoor sculptures. The largest public sculpture he has built and installed so far is 24 feet tall. He creates sculpture for both public and private parties. Through the use of maquettes, Photoshop and full scale three-dimensional models, he works closely with his clients in order to create one of a kind site specific works of art.